Security is one of the most important aspects of technology that is always evolving, and the lack thereof could potentially have negative long-term effects for users. Data breaches are not a new concept, but they still play a key role in testing a corporation's strength within security.
Recently, one of the most popular personal computing companies – Acer – has suffered from a widespread data breach. Acer is the sixth greatest personal computing vendor, with a 7% share of the entire market. Consumers who may be affected include users who have taken advantage of the United States' online shopping portal between the period of May 12, 2015 to April 28, 2016. Customers' information may have been directly accessed by a third party.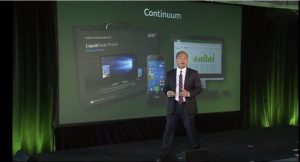 Acer has filed a letter with the California Attorney General's office in response, listing the implications of this breach – which can include data such as addresses, CCV security codes, dates of expiry, numbers from credit cards, and other information. Reading the letter further, Acer says that:
"We do not collect Social Security numbers, and we have not identified evidence indicating that password or login credentials were affected."
It is unknown if the company has experienced similar breaches that have impacted other countries, and it is recommended that consumers who may have been affected by the breach look for signs of fraud and review their credit card statements and transactions.