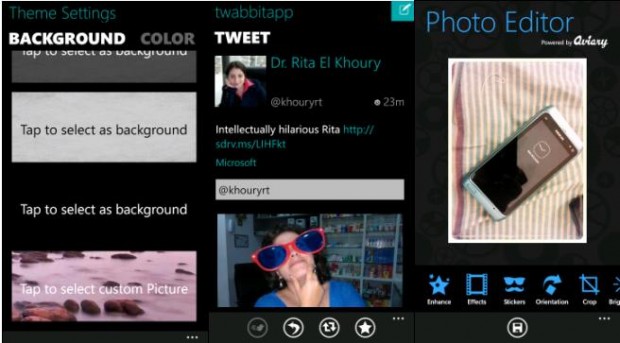 Twabbit Twitter client for Windows Phone is soon going to get a bunch of features in the upcoming update. Check out the upcoming features in the list below,
Theme settings with support for custom color schemes, custom sized fonts and custom backgrounds.
Aviary photo editor for photo manipulation(optional, switched off by default)
Mentions, Retweets(of, to, by) to the profile page
Option to specifically disable toast notifications in background task, tiles will still work
Options for different RT styles and new high resolution picture previews with fun multi touch manipulation
SkyDrive picture previews
Translate options for multiple languages(10 European languages)
Read later options including Pocket and Instapaper support
New cool way for switching accounts from the omnipresent "Compose tweet" page
Twitter Trends support
New UI for settings, gestures and overall account management
New ME pivot for quick access to personal stuff
The app costs $0.99 with free trial available. Find it here from the marketplace.