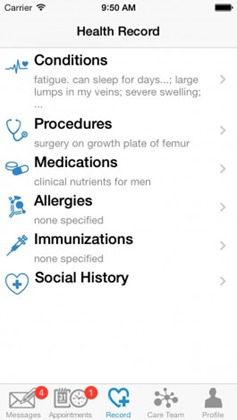 PortalConnect is a Healthvault-type service aimed at GPs which allows patients to securely communicate with their doctor, make appointments, receive lab results, manage your medical record and much more.
At present the service is iPhone-only, but according to PortalConnect support the service will soon also to Android and Windows Phone.
They write:
This is Cristina writing to you from the PortalConnect Support Team.

An Android and Windows phone app are currently in the works and will hopefully be released soon! We understand that not everyone uses an iPhone and are working quickly to get all of our Portal users mobile access.

Thanks for your patience!

Cristina Santiago
PortalConnect Support Team
The arrival of these kinds of apps on Windows Phone are particularly important, as there are obviously no 3rd party substitute possible.
See a video demonstrating the service after the break.
Thanks jaylyric for the tip.