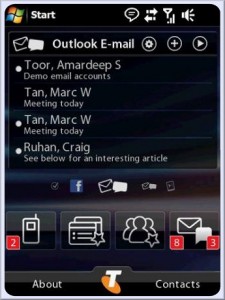 In another surprise announcement, PointUI, Â the Australian Windows Mobile UI developer has found another home on carrier-branded devices.
The Victoria-based company's UI will find a home On Telstra's Windows Mobile devices where it will expose its portfolio of services and applications, like mobile e-mail, Facebook, and vertical apps like those, for example, used for fleet management.
General manager of rich mobile media at Telstra Scott Taylor said the UI is developed in simple scripts which Pointui's native Windows Mobile C# interpreter can easily update the interface if required.
In a separate announcement Telstra has announced a partnership with Microsoft to bring hosted mobile application and unified communication services to small businesses, including its own souped-up version of Windows Mobile developed locally.
Other initiatives as part of the alliance include hosted Microsoft business applications like Exchange and SharePoint; integration with Mobile devices for data synchronisation and device management; and hosted unified communications for click-to-call, presence, and voice and video conferencing.
Telstra group managing director for product management, Holly Kramer, said Telstra and Microsoft would collaborate to deliver a "seamless one-click, one-touch user experience".
"We are working towards a fully-hosted unified communications service," a Telstra representative said.
Source: Techworld