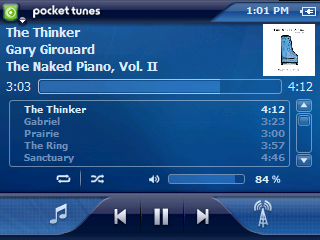 Treocentral has today published a review of PalmOS's premier media player, now available on the Windows Mobile platform.  This software's main claim to fame on the Windows Mobile platform is its ability to sync with iTunes. Its rather steep price of $37.95 may however put a lot of people of from adopting this software. 
Treocentral concludes:
Pocket Tunes Deluxe for Windows Mobile ($37.95 at pocket-tunes.com) is a very able music and audio book player for your WM Treo. Having the option of playing user-installed music and internet radio makes Pocket Tunes Deluxe an easy application to recommend. Sound quality is good, graphics are good, it's easy to use, and a 15 day trial period and 15 day user satisfaction guarantee makes Pocket Tunes Deluxe an easy choice for your WM Treo media player. Internet radio alone, for me, is a fantastic feature. If you want a media player that is more feature-rich and customizable than your stock player, then I happily recommend Pocket Tunes Deluxe by NormSoft, Inc.
Read the full review with numerous screenshots here.