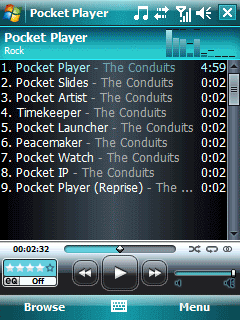 Pocket Player by Conduits has just seen an update to version 3.71.
The popular 3rd party music player features multiple media and playlist formats, Internet connectivity, plugin extensions, and an intuitive interface.
Of particular note to users of recent HTC smartphones is that the software is now able to override the bluetooth remote control system that was locked to HTC's own Audio Manager, meaning Pocket Player users can now once again safely control payback from their bluetooth headphones.
Read more and download Pocket Player from the Conduits website here.