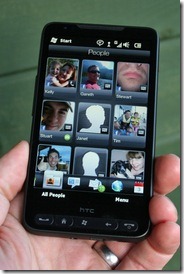 In what may be the first official review of the HTC HD2, Pocket-lint have published a review of the much anticipated smartphone. Calling it "a giant phone that achieves giant things" and "the best Windows Phone we've ever seen", they note the smartphone is very responsive, the camera pretty good and taking very usable video and found the people-centric Sense UI very satisfying.
They did however complain about the sparsity of marketplace, which is of course even more under-populated in the UK, of some camera lag (which is the opposite of the videos we have seen) and of some sharp edges (due to the shape and thinness of the phone).
Overall they were however fairly impressed, and gave the phone a solid 9 out of 10.
Their final verdict was:
The HTC HD2 gives you a full smartphone experience from all angles. The tech specs are fully loaded, giving you HSDPA, Wi-Fi, Bluetooth, GPS, a digital compass, accelerometers, proximity sensors (so it knows when it is next to your face…). You get that 5-megapixel camera with LED flash, video capture that actually looks ok and a 3.5mm headphone jack. Then there's the responsive 4.3-inch high-resolution capacitive touchscreen display.

It wouldn't be fair to mark the HD2 down simply because it is a Windows Mobile device, despite that OS having a number on inherent problems. If anything, HTC should be praised for what they have achieved with the HD2 through their customisation.

But you do have to consider that when you push beyond what HTC Sense offers you here, you are back to Windows Mobile and that unfortunately includes a rather basic Windows Marketplace, which still looks a little sparse at present.

Another downside, of course, is that you have a giant phone. If you spend most of your time moving from home to desk via the train, this might not be a problem, but slip it into a pair of shorts come summer and you might want something smaller.
Read the full review here.