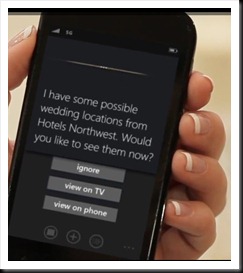 On a recent video showcasing the future of speech on the Windows platform, there is a point in the video as shown on the screenshot whereby the lady is asked where she wants the content to be displayed. Windows 7 has had the DLNA capability of pushing content from once device to another via the Play To functionality since its inception. Unfortunately, it is somewhat hidden and thereby rarely used. These feature should occupy a prominent spot on the Windows Phone and  tablets to go head to head with iOS Airplay. Microsoft also needs to work with more home theater systems manufactures so that they can have more devices certified as "Play To" ready. This will increase the appeal of purchasing Windows based devices due to the increased compatibility with high end third party devices and accessories.
Imagine going to a conference and all you had to do is turn on your phone or tablet, find the  "Play To" ready projector and bam! your presentation is on the screen, no wires involved! It would also be an excellent way to share family videos, pictures and music on a big screen via an Xbox 360 or "Xbox TV" The Apple Airplay ad here showcases it more convincingly but as you can see from the Microsoft Play To demo, they basically achieve the same goal.
The LG quantum phone has DLNA built in but I contend that the feature should be a part of the core OS available on all devices.