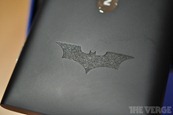 The Verge were one of the lucky recipients of only 40 special limited edition Nokia Lumia 800 Dark Knight Rises phones, which feature a Batman logo engraved into the back of the device.
The handset also comes with a set of pre-loaded DKR wallpapers, cases and a special app with a live tile with information about the upcoming movie.
The phone celebrates the upcoming second Batman movie, Dark Knight Rises, the follow-up to Dark Knight, and is being directed by Christopher Nolan.
See many more pictures at the Verge here.
Thanks Richard for the tip.