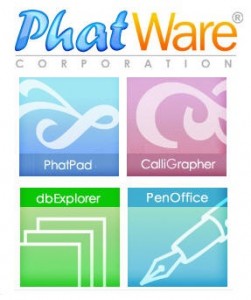 What a great way to start off 2009! PhatWare is offering up all of their Windows Mobile products for the flat price of $9.95 USD until midnight Jaunuary 2nd, 2009.
The regular prices on these various applications are normally in the range of $19.95 USD all the way up to $39.95 USD, so this is quite a steal.
Here is a quick list of the programs that you can get a great New Years deal on:
CalliGrapher, PenCommander, PhatNotes, PhatNotes for Outlook, PhatPad, PhatSketch, PhatSpell and Pocket dbExplorer.
Been waiting to get your hands on some new applications but wanted to save some of that hard earned cash? Now is your chance to do just that.
Make a visit to their site and have a look.
Let us know in the comments how you made out.