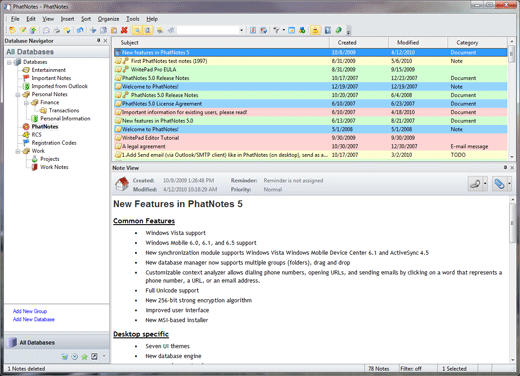 Press Release: PhatWare Corporation, a leading provider of software products and professional services for mobile and desktop computers, announces today the release of PhatNotes Desktop Edition 5.6 for Microsoft Windows. The new version includes a library of more than 200 icons that can be assigned to note items and folders, four new UI themes, optimized synchronization with iPhone which supports icon synchronization, and improved compatibility with Windows 7.
PhatNotes has been among the leading notes organizers on the Windows Mobile platform since its first release in 1997 and has won numerous industry awards, including Smartphone and Pocket PC Magazine's Best Software Awards in the notes category for eight consecutive years. PhatNotes allows users to create notes and organize them by category, color, subject, priority, creation, authorization, and modification dates. The software provides powerful text search, advanced data filtering, document security, and email capabilities.
"We are continuously improving our product line to deliver the most comprehensive and easy to use software for our customers.", said Stan Miasnikov, president of PhatWare Corp. "With the release of PhatNotes Desktop Edition 5.6 we are pleased to further improve PhatWare's oldest product, delivering new features recently introduced in the iPhone edition of PhatNotes."
PhatNotes Desktop Edition includes synchronization software for PhatNotes for iPhone and PhatNotes for Windows Mobile, allowing users to synchronize the same notes database on the PC with Windows Mobile and iPhone mobile devices. PhatNotes Desktop Edition has been tested and passed Windows 7 certification and is compatible with Windows XP, Vista, 7, and Windows Server 2003/2008.
PhatNotes Availability and Pricing
PhatNotes Desktop Edition software is available directly from PhatWare and PhatWare's authorized resellers and is priced at $19.95. A free 30-day trial version of PhatNotes Desktop Edition can be downloaded from the PhatWare web site at www.phatware.com/phatnotes. All registered users of PhatNotes 5.x can upgrade to PhatNotes Desktop Edition 5.6 free of charge.