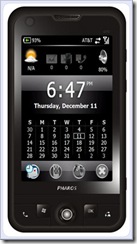 Matt Miller from the ZDNET blog has reviewed the Pharos Traveler 137, the first Windows Mobile phone to run on T-Mobile's AWS 3G network.
While the device seems pretty good, Matt has gone of Windows Mobile a bit, which explains his conclusion:
Closing thoughts: Most of these higher end smartphones all have virtually the same specifications, so then it comes down to the user inteface, performance, and stability of the device. Pharos uses Spb Mobile Shell 3.0 to achieve a higher level of user control and it really is quite customizable. However, Windows Mobile devices today just are not as responsive as the iPhone, Google Android, or Palm WebOS platforms and consumers do not appear to be as accepting of devices that don't act like the iPhone. Windows Mobile is still very attractive to the power user and enterprise user who needs the best Exchange experience on a mobile phone and the Traveler 137 is a decent performer in most areas.

The MSRP for the Pharos Traveler 137 is $599.99, but I see it online at various retailers for about $525. This actually is not too bad considering it requires no contract extension and is fully SIM-unlocked for worldwide usage.

I plan to leave my T-Mobile SIM in the device all next week and focus on the GPS software and performance in my follow-up post since that is the primary focus of this device, but wanted to give you a heads-up that it is under review and available for purchase. If you have any specific questions you want me to answer, please post them here and I will try to answer them in my next post about the device.
Read his full review here, and the video below: