Press Release: Pharos Science & Applications today announced the launch of the Pharos Traveler 137 Smartphone with Cincinnati Bell Inc.  Cincinnati Bell provides integrated communications solutions–including local, long distance, data, Internet, entertainment, and wireless services in Greater Cincinnati and Dayton and is the  first carrier in North America to offer the Pharos Traveler 137.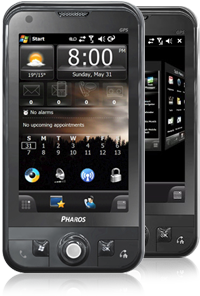 The Traveler 137 Smartphone represents Pharos' third generation of Windows phones. Weighing 4.9 ounces and measuring 4.6 by 2.4 inches, it includes the following key features:
— Windows Mobile 6.5 Operating System
— Award-winning Pharos Smart Navigator GPS software and server-based travel information and navigation service
— Corporate and personal e-mail connectivity
— Quad-band GSM and tri-band 3G wireless network capabilities for improved roaming experience worldwide
— 480 x 800 megapixel touchscreen display with touch-and-sweep interface
— Dual camera with 3 megapixel for picture or video and 0.3 megapixel for video conferencing
— FM radio tuner
"We are delighted that Cincinnati Bell will be offering the Pharos Traveler 137 Smartphone to their customers," said Bob Serafini, VP Enterprise Sales for Pharos. "We are certain that the Cincinnati Bell customers will find the Traveler 137 to be the most capable and elegant Smartphone available."
The Pharos Traveler 137 was featured in the best Smartphone and best Mobile CE device categories of the "Hot for the Holidays" awards program sponsored by CTIA (Cellular Telephone Industry Association). It also was awarded a 2009 CES (Consumer Electronics Show) Innovation award for the Smart Navigator software.
"We are constantly striving to bring the best technology to our wireless subscribers and excited to offer a 3G Windows Mobile Smartphone as advanced as the Pharos Traveler 137," said Eric Bernard, Senior Manager Wireless Product and Supply Chain for Cincinnati Bell Wireless. "Business customers in particular will find this device appealing. It offers a full suite of Windows applications, the new look and feel of Windows Mobile 6.5, and full 3G wireless network capabilities allowing for faster data connections when using the Cincinnati Bell Wireless network."
For more information about the Pharos Traveler 137 from Cincinnati Bell, go to www.cincinnatibell.com here.
Via Marketwatch.com