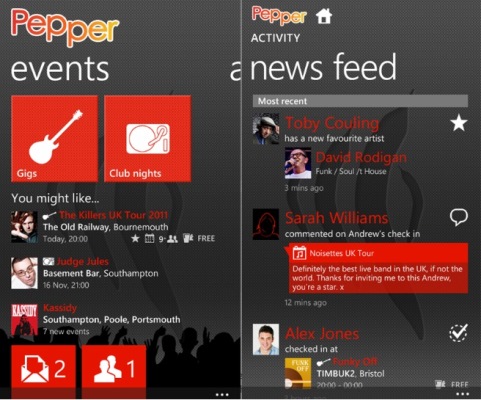 Pepper is an app for Music lovers in UK which allows them to to live their music social life with friends. You can track who's attending events, invite anyone that's missing and check in at events to share your experience with friends who couldn't make it. It even allows you to follow your favorite artists, venues or promoters, view their upcoming events and catch up on their latest updates from Twitter.
The app features the following,
– Search thousands of gigs and club nights by date and location
– View event details including start time, venue, artists and ticket prices
– View friends attending an event
– Invite friends to events you're attending
– Check in at events
– Share your status from events
– Add events to your Pepper App calendar
– View friends activity from your Pepper App news feed
– Track your favourites from your Pepper App profile
– View your friends favourites and calendar
– View artists, venues and promoters profiles
There are over 600 of the top venues in the UK listing their events on Pepper and many more coming soon. I hope they expand to markets outside UK soon.
Find the app here from the marketplace. You can find more about this service/app at http://www.pepper-app.com/.