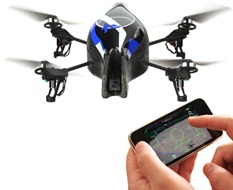 I've said before I think there should be more Windows Phone 7 apps for the impractical but impressive things people do with other smartphones.  A good example is being able to control the Parrot AR.Drone with an iPhone or Android smartphone.
With the upgrade to Windows Phone Mango and also with some changes to the AR.Drone itself which turns it into an access point it is now possible to connect to the Drone, but of course the software to control it itself is still lacking.
ScottGS and IrvineCAGuy on the Parrot forums have taken up the challenge of creating this software and reports there that they are ready to release a beta soon.
Hopefully Windows Phone 7 users will soon also be able to take part in the fun of buzzing their friends, pets and loved ones, and move Windows Phone 7 one step forward in the perception of parity with other mobile operating systems.
Thanks Ro for the tip.