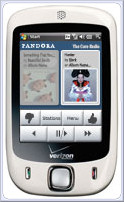 We have posted on this new development a few days ago, but Pandora has finally come out with an official press release and also confirmation that the service is sans that annoying $8.99 monthly charge the LG Incite has to suffer.
Pandora allows Windows Mobile Users to Enjoy Pandora Stations Anytime, Anywhere for Free OAKLAND, Calif., Dec. 16


OAKLAND, Calif., Dec. 16 /PRNewswire/ — Pandora, the personalized
Internet radio service, today announced the release of its Windows Mobile
application. For the first time ever, Pandora will be freely available on the
Windows Mobile platform further delivering personalized radio beyond the PC.
The application will feature the same functionality as the online version of
Pandora, such as creating new stations, bookmarking songs, and rating songs
with thumbs up or thumbs down.

This is the first time that Pandora is offering a mobile version of its
online radio service for the Windows mobile platform. The Pandora application
is now available on select, popular Windows Mobile handsets including the
Verizon MotoQ9c, the Verizon HTC XV6900, the Sprint MotoQ9c and the Sprint HTC
Touch. Pandora expects to release Windows mobile applications for additional
handsets after the first of the year to further expand its reach as well as
its mobile marketing options for advertisers. Pandora listeners can download
the Windows Mobile Application by visiting
http://www.pandora.com/on-windowsmobile.

"The launch of Pandora on Windows Mobile is in direct response to our
listeners' requests," said Tim Westergren, Founder of Pandora. "We're thrilled
to bring the on-the-go Pandora experience to users of Windows Mobile."

About Pandora:

Pandora (http://www.pandora.com) is a personalized Internet radio and
music discovery service available anytime and anywhere on the PC, in the home,
and on mobile devices via partnerships with AT&T, Apple and Sprint. Pandora is
based on the Music Genome Project begun in 2000 and is the most thorough
analysis of popular music ever undertaken. Each song in this massive
collection is analyzed by more than 30 trained musicians, and assessed against
nearly 400 distinct musical attributes such as melody, harmony, and rhythm to
capture its unique musical identity. Using this information to build playlists
based on musical similarity, listeners can simply enter a favorite song or
artist, and instantly launch a personalized listening experience which
includes discovery of new bands, artists and songs. Today, Pandora has a
growing user base of more than twenty million registered listeners, a database
of over 550,000 songs, and national advertisers such as HP, Microsoft, Honda,
Procter & Gamble, and Nike.

Read more at Pandora.com.