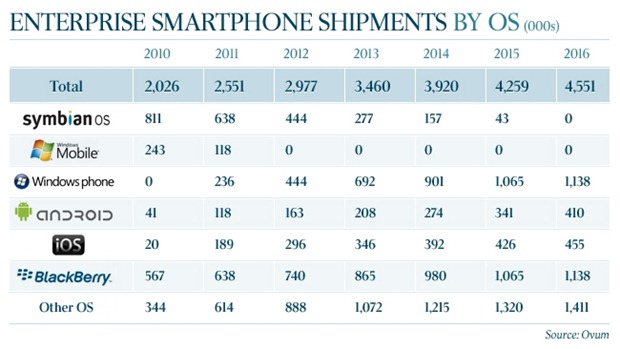 Ovum have published a report predicting the future of enterprise mobility in Asia over the next 5 years.
They show both Android and iOS and RIM's growth tailing off, with Windows Phone's share spiking from 9 per cent to 25 per cent, with a compound annual growth rate of 37.
By 2016, BlackBerry and Windows Phone shipments should both reach 1.14 million units, according to Ovum, both having 25% market share.
Ovum principal analyst Pauline Trotter attributed RIM's shrinking market share to rival products being more appealing.
"BlackBerry will remain the overall leader for the forecast period as its strong device management and security capabilities make it a favourite with IT departments," she said in a statement.
"However, reflecting trends in the consumer smartphone market, Windows Phone and other OS devices will make significant gains.
"Ongoing improvements in manageability of these device platforms, and support for more business applications, will begin to make these devices much more appealing to enterprise buyers."
Ms Trotter said the demand was driven by "the need to support business applications on handheld devices, as enterprises adopt more flexible working patterns and continue to support employees away from the workplace".
Read more at the Australian here.