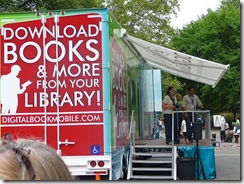 OverDrive Media Console is a media player developed by OverDrive, Inc. for use with its download services for library, schools, and retailers. The Windows Media Player-based software allows users to download, organize, and listen to audiobooks, music, and video either borrowed from a library that uses OverDrive download services or purchased from an online retailer whose content is supplied by OverDrive.
OverDrive has announced the OMC software now available for Windows Mobile.
With OverDrive Media Console for Windows Mobile, users can:
Install OverDrive Media Console for Windows Mobile on devices running Windows Mobile 5 or 6. Now, Windows Mobile users can enjoy OverDrive Audiobooks, Music, and Video on an application designed specifically for OverDrive media. Patrons will enjoy a 'look and feel' that mirrors the OverDrive Media Console interface they are familiar with on the PC–including features like bookmarking and navigation via MediaMarkersâ"¢. Users can download the application directly to their devices or, if preferred, download OMC WM to their PC and synch it to their device.
Download OverDrive media titles directly to Windows Mobile (5 & 6) phones and devices. More and more of your patrons are constantly online via portable devices. With this release, Windows Mobile users can download OverDrive media directly to their devices–anytime, anywhere!
Continue to transfer OverDrive media to their device from a PC, if preferred. Some users may prefer to download OverDrive media to their PC, then transfer the media to their device. This functionality is still supported; content downloaded via PC can be transferred to the device.
Count on OverDrive Media Console for Windows Mobile to alert them of software releases and news about the software–automatically. The settings to automatically check for messages and updates are enabled by default. With these settings enabled, users will be kept up to date with the latest software updates and news.
Download the client from Overdrive here.