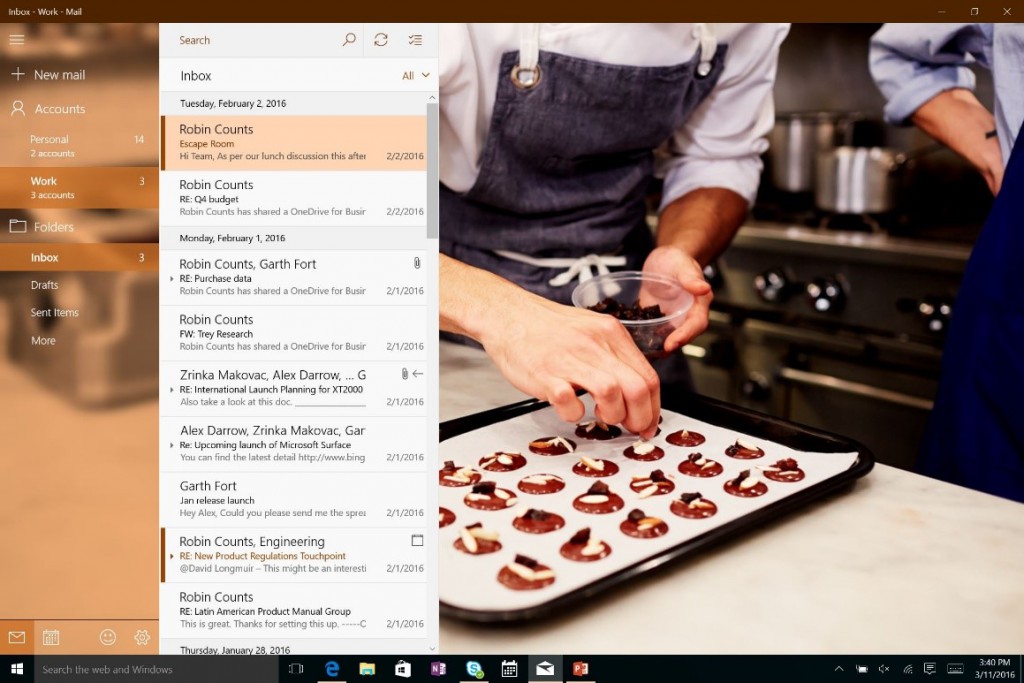 Today, Microsoft announced some nice new features coming to the Windows 10 Mail and Calendar apps. The company is announcing Linked Inboxes for multiple accounts with the latest update for the Outlook apps, which is a really nice addition. The company also announced deeper Cortana integration, along with deeper integrations for live tiles and notifications. Also, the company announced that they will finally start sharing changelogs for the latest updates for these apps, which was much needed.
Personalization: We have added a number of personalization features that let you make the apps your own. You can now customize the background, accent color, theme and calendar colors. We love seeing some of the screenshots you have shared with us and wanted to share our own with you as well.
Linked Inboxes for multiple accounts: We've heard you love connecting multiple email accounts in the Mail app, and also wanted these in one view. In December, we released Linked Inboxes. Now you can select which of your accounts are linked and see all your emails from those accounts in one place without having to switch between them.
Deeper integration with live tiles, notifications and Cortana*: We've heard how you enjoy the integration of features like live tiles and notifications, and we've taken extra steps to make sure the apps work well with Cortana. Here are a few quick tips and tricks to try. Add events to your calendars using Cortana with your voice. Reminders you set using Cortana show up in the Calendar app. You can also start typing emails from Cortana and complete your prose in the Mail app if you want. We will continue adding more of these features so that your Mail and Calendar experiences leverage the full power of Windows 10 and Cortana, your digital personal assistant.
Continued commitment to stability, sync reliability and accessibility. With each of the app updates we've released, quality of the experience in stability, sync reliability across your Windows devices, and accessibility are priorities for our team. Recent accessibility improvements to Mail app include a more predictable keyboard behavior, familiar navigation, and reliable reading for Exchange accounts with screen readers.
Spotlight: We added a new in-app feature called Spotlight, that gives you the highlights in major updates. Here we will showcase our top new features that we hope you'll check out.
What's New: For those of you who like more detail, check out the What's New page under Settings with the app. Here we'll note the latest features and improvements released early to Windows Insiders as well as those that have been released to everyone.
Of course, some of these features are already available, but the new ones seem to be the new Linked inboxes for multiple accounts, and the What's new section. Nonetheless, what do you think of the upcoming changes? Discuss in the comment section below.
Developer: Microsoft Corporation