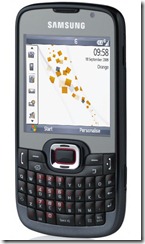 Orange has launched a business homescreen for the new Samsung Omnia Pro B7330. The new interface, which is available to medium and large business customers offers seamless access to email, voicemail, calendar, contacts, and customer information all from the one handset, ensuring vital business applications are right at their employees' finger tips.
The new device and homescreen makes it easier for business users to access all their vital applications with an easy to use one-click function. People constantly on the go can use GPS or Orange Maps to help them navigate between meetings and customers who rely on knowing all the latest news can receive real time reports using the Reuters news service widget, available on the Orange Widget Player.
The homescreen will also include the ability to prioritise icons, saving time and making it easier for business users to access the services that make doing business easier for them. In addition, users can create a VIP contacts menu – keeping those vital customer contacts just one click away; businesses can also create shortcuts on the homescreen, making it quicker to get that all important travel update or ISS feed. All of these facilities are designed to make it quicker and simpler for business users to navigate their mobile business applications and make the most of their phones.
The Samsung Omnia Pro B7330 also comes with Orange Device Management, which makes it easy for IT managers to deploy mobile settings and create one familiar interface across all devices in their organisation. This saves time for IT managers who are able to install new applications and update security settings to ensure all their company mobile users have access to the right tools for their jobs.
"The Samsung Omnia Pro B7330 is a strong addition to our business signature range of devices and as a WM6.5 device, it not only provides a step up in customer experience but also provides the perfect platform to showcase the Orange business homepage and a range of multimedia business applications," said Anthony Keyworth, Director of Business Products, Orange UK.
"Devices such as this hold the potential to make businesses more efficient and are becoming strategic tools for customers, rather than purely communication devices," continued Anthony Keyworth.
The Samsung Omnia Pro B7330 is Orange's first business Windows Mobile 6.5 device and will include 3G, Push Email, 320×320 screen and a sleek QWERTY keyboard, helping users to work faster and smarter by hiding less important applications and making it quicker to access those which help manage everyday working life.
Via Unwiredview.com