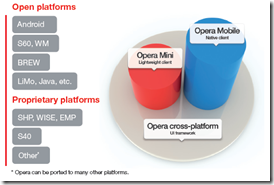 With the release of their Android version, Opera has offered their browser as a cross-platform UI and development platform for handsets ranging from smartphones running Symbian, Windows Mobile and Android all the way to feature phones running S40 and others.
They claim their widget-based application environment can lower development costs, speed time to market and deliver a consistent user experience to buyers, while providing a more visually attractive user interface.
The browser-based user interface has been touted before, previously by Access for example with their Netfront browser, but HTML-based UI's have recently gained increased mind-share with the WebOS on the Palm Pre, which makes its adoption by another OEM slightly more likely.
While the main criticism would likely be that such a UI would be slow and unwieldy, it could easily be argued that at present many of us spend the majority of the time on our computers interacting mostly with web-based user interfaces for the various web applications that make up our online life these days.
Would our readers be interested in a web-based UI paradigm on their phones?  Let us know below.
Read more at Opera here.