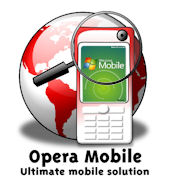 It seems the best mobile browser in the world is finally getting ready to spread its wings beyond its select few partners. Frode Hauge, product manager for Opera, has announced in a blog post that Opera Mobile 9.5 is set to be released in a public beta around the 15 July. The version released may not be exactly the same as found on devices like the HTC Touch Diamond – HTC has said earlier they had asked for specific changes, and the great text reflowing feature is believed to be specific to the HTC Touch Diamond only.
Finally having an official version however still remain great news, specifically in contrast to Symbian users who are lamenting very loudly on the Opera blog the absence of any announcements for their platform.
Read the full entry here.