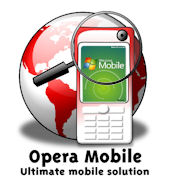 So you are using the best, most standard compliant and most useful mobile web browser around, and you are laughing at your iPhone totting friends who cant even open up links in a new tab, but are secretly envious of their ability to have 7 tabs open, while you only have 3? No need to be envious anymore!
A simple hack will give you as many tabs as you want (within reason of course 😉 )
See more after the break
 Simply open the opera.ini file, found in \windows\opera9 directory and edit the line saying Maximum Allowed Tabs. You may also want to change the same line in the file opera6.inii n the same directory.
As you can see from my screenshot, it works very well indeed 🙂