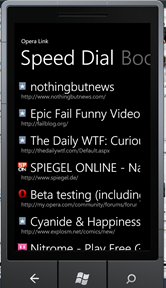 We wrote about this app a long time ago, when it was still just a rumour, but Opera Link for Windows Phone 7 has actually been in Marketplace for the last 6 months, with the developer actively updating it, last in May to version 1.7.
The app provides bookmark/favourite sync between the Opera browser and Windows Phone 7, similar to what was available in the Windows Mobile days with Activesync.
To be able to use this tool you have to enable Opera Link in Opera. For Opera Mobile and Opera Mini you can find this under options. On the desktop click the "O" menu and choose synchronize Opera.
The app will then give you full access to your Bookmarks, Notes and SpeedDials on your Windows Phone.
Of course hardly anyone uses the Opera browser on the desktop, but if you have a long list of favourites you wish to bring over to your device it is pretty simple to install the browser and do a one time import of your Firefox or IE bookmarks to Opera and continue from there.
Devicemag does a step by step run down of the procedure here.
Opera Link for Windows Phone 7 is free and can be found in marketplace here.