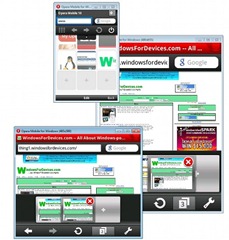 Microsoft is not making a tablet, but that does not mean many companies are not already shipping Windows CE-based tablets.  Opera is making a play to be the browser on these ARM-based devices, and will be showing off their designs at Computex in Taiwan to potential customers in the tablet and e-reader marker.
"The Opera browser engine supports various cross-platforms required to enable a competitive e-reader and tablet solution," said Rolf Assev, Chief Strategy Officer, Opera Software. "To be able to adapt to changes in technology and standards, OEMs that manufacture many different kinds of devices will be able to take advantage of the platform-independent, cross-device capabilities of the Opera browser engine."
The web solutions for e-readers and tablets are powered by the Opera Devices SDK and Opera for tablets. Opera Devices SDK allows e-reader OEMs to develop custom browsers based on the latest Opera Presto rendering engine that powers Opera's range of browsers. Browsers based on the Opera Devices SDK are market-proven, expandable and have also been already deployed on a wide range of products such as TVs, games consoles, media players, and more. Opera for tablets provides a touch-optimized tablet browser user interface and out-of-the-box productive quality on Android and Windows CE. It also has the web-application platform, such as the end-to-end widget solution, the W3C-compliant widgets, the application store and the developer community.
Read more about Opera's tablet efforts at WindowsforDevices here.