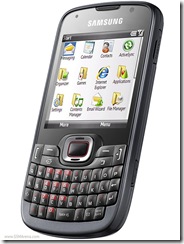 The Samsung Omnia Pro B7330 is finally available for order from TotalPDA. The Omnia Pro has taken a while to become available to the general public, but but has finally shown up with Windows Mobile 6.5 in tow.
Unlike its distant relative the Samsung Omnia Pro B7620 it does not come with a touchscreen, so it's back to the days of using a D-pad instead. It also has the unusual 320 by 320 resolution, which many applications do not support.
The smartphone features Quadband GSM, AT&T 3G, full qwerty, 528Mhz processor, GPS, Bluetooth, 3G, Wi-Fi, 3.2MP camera and 1500mAH batteries.
The device is available from TotalPDA for £234.99.
Read more about the device at TotalPDA here
WM