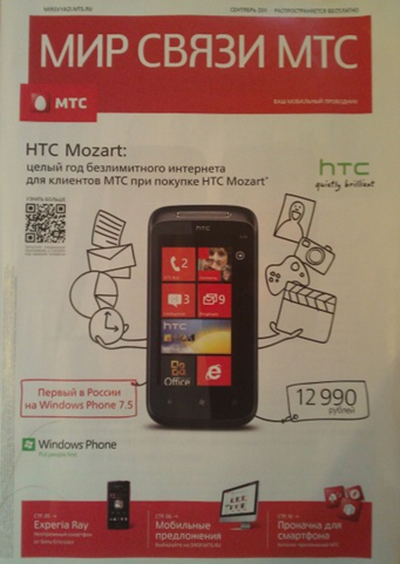 Russian operator MTS has announced the sale of its very first Windows Phone 7 handset running Microsoft's brand new operating system, Windows Phone 7.5 Mango.
Windows Phone 7.5 Mango for the first time supports Russian, making the delay quite understandable.
Somewhat more difficult to understand is the decision to not launch with new hardware, but to rather use the now pretty old HTC Mozart for the launch.
Of course given that the specs of the handset is now decidedly mid to lower range, it may be a good idea to enter a new market with a lower-priced handset,
Unfortunately HTC seems to fail even here, with the device, at  12990 roubles costing about $450. 
I guess we should not be expecting a huge increased in Windows Phone 7 sales coming from Russia any time soon.
Incidentally, the release reveals the new slogan for Windows Phone 7.5, "Putting people first", which we may hear echoed soon all around the world, hopefully associated with newer hardware than the HTC Mozart.
Thanks Aleksey for the tip.