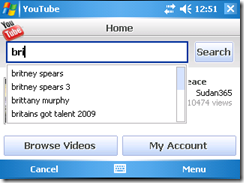 Google has updated its YouTube Mobile app for Windows Mobile to version 2.4. Google claims this version is faster, and now supports user accounts, just like the website. 
It also supports search query suggestions, and features a new home screen optimised for larger screens.
To download the app on your phone, m.youtube.com/app in your phone's browser.