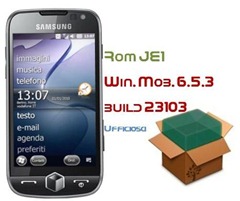 HDBlog.it reports on what appears to be an impeding release of an official Windows Mobile 6.5.3 ROM update for the Samsung Omnia 2.
So far multiple official beta ROMs have leaked, the latest being build JE1, which features the updated OS, and is apparently pretty speedy, and has the full complement of Samsung software.
Windows Mobile 6.5.3 brings improved gesture support to the OS which should make the use of touch-screen only devices such as the Omnia 2 significantly easer.
The ROM (in Italian) can be downloaded from the HDBlog forums here.
Are any of our readers using this software? Let us know your experience below.