Punjab Kesari, one of leading Hindi newspapers in India has released their official news app for Windows Phone devices. The app is simple, yet functional and offers the features which you expect from a typical news app.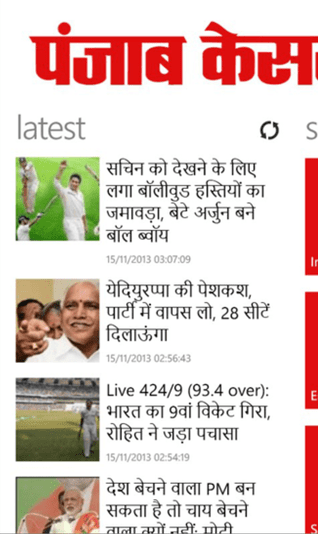 App Description:
The Punjab Kesari window mobile app brings you real time news on National and International affairs, Sports, Entertainment, Articles and posts on Dharam .Get latest videos and photos all in ONE CLICK. Enter this platform of happening events, share and like the stories and even post your comments for the world to see.

Covering each and every story from different perspectives, supported by visuals and on-field reporting, the Punjab Kesari Mob app provides the viewer with a full and fine understanding of events. The stories that happen across the length and breadth of the country are covered in its totality. What happens around the world becomes a click away with the new Punjab Kesari mobile app. Timely and exclusive news presentation combined with high end technological support is what we offer.

A range of sporting events with their jaw dropping performances are given to the viewers with the support of Live updates. Each and every story covered right at the moment is served hot to the viewers at a click away.

A full package of entertainment ranging from Pollywood, Bollywood and Celebrity stories adores the Entertainment section of the mobile app. Be it a movie review, or the celebrity take or that of a gossip everything find their way to this small space.

Various articles on issues spoken freely by people of right voice and fearless words find their expression here. Inside the tab of Dharam lie the endless and limitless thoughts on religion and philosophy. Refreshing and rejuvenating every second of reader with positive energy to live with in this world of chaos.
via: WPC