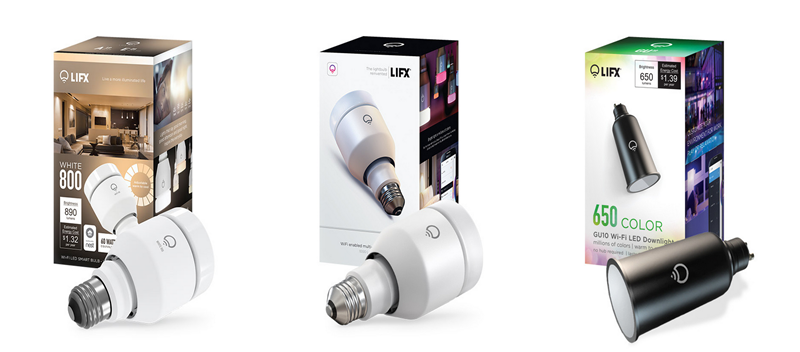 Smart lighting is often the first step to home automation and with Windows 10 Microsoft is making a big push to have support for these technologies build in to the foundation of the OS in the form of AllJoyn support.
One of the first apps to take advantage of this is the new official LIFX app for Windows 10, which lets you control their range of smart light bulbs.
The LIFX light bulbs connect via WIFI and can produce up to 16 million vibrant colours and thousands of shades of white and can be set to suit your mood, music or even your style with your Windows 10 Desktop, Surface or Tablet.
The app features:
EXCITING EFFECTS: Enjoy special effects like the, candle flicker, random colors and pastels.
GROUPS: Choose your lights and group them together for easy control.
PRESET THEMES: Choose from our beautiful preset themes to set the scene of your decor in one tap.
WINDOWS 10 EXCLUSIVE FEATURES
CORTANA: Control your LIFX lights with your voice! Just say "Hey Cortana, tell LIFX…" to get started. Example phrases include: "Tell LIFX to make my lights red", "Tell LIFX to turn on my bedroom lights", "Tell LIFX to make the hallway lights brighter".
LIVE TILES: Pin a light (or a even a group of lights!) to the Start Menu. LIFX Live Tiles automatically update to show on/off and current color. They also make a great a shortcut to your favourite lights: just tap a tile to open LIFX to instantly with your light automatically selected.
READY FOR SURFACE: Optimized for desktop and tablet viewing, and perfect for Surface Pro 3. Maximize LIFX to fill the entire screen and view your whole lights list and your color wheel at the same time. And it works great with a mouse or a touch screen.
ALLJOYN ENABLED: Built on AllJoyn for Windows 10, LIFX can onboard and control AllJoyn-certified smart lights from any manufacturer.
LIFX Lights also connect to many existing smart devices and apps.
GOOGLE NEST: LIFX works with the Nest Thermostat and Protect. If Nest Protect detects smoke, your LIFX Lights can flash red to let you know there might be danger. When you are Away LIFX can save you energy and give you peace of mind with vacation mode.
LOGITECH HARMONY: Use your remote control to automatically dim your lights in time to watch the latest blockbuster.
SAMSUNG SMARTTHINGS: Let your LIFX Lights talk to smart locks, cameras and motion sensors to automate your home.
IFTTT: Connect your LIFX Lights with the online apps you use everyday like Facebook and the Weather Channel.
The LIFX Lights are available at lifx.com, Amazon.com, BestBuy and other select retailers.
See a video demo of the bulbs below:
[youtube=https://www.youtube.com/watch?v=oQkdQlXOBGU]
See screen shots of the app below:
[gallerify title="LIFX app screen shots"]
[/gallerify]
Find the app in the Windows Store here: