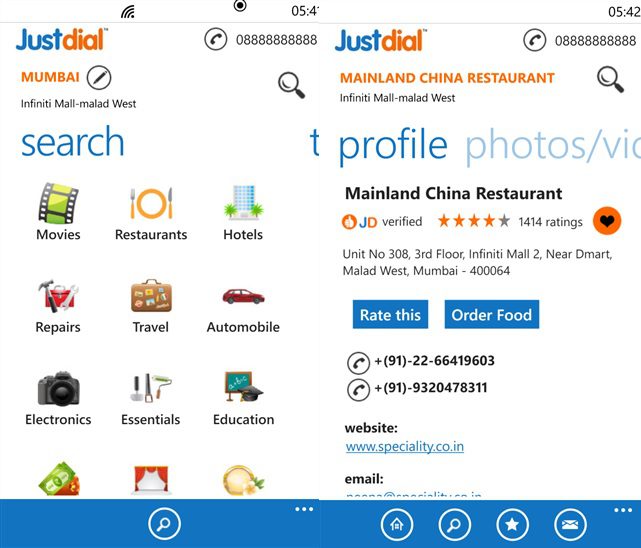 JustDial is the largest local search engine in India. It allows you to find local information like movies in your area, Restaurant next door, Hotels, Airlines and more. Many of these local listings are reviewed by millions of Justdial users.
App Features:
You can enjoy some of the amazing features listed below when you download the JD App :
* Auto Detection of your current location with the help of GPS
* Close proximity search through 'NEAR ME'
* Get popular choices for RESTAURANTS, MOVIES, DOCTORS & more
* Sort your search by attributes like ratings , distance or popularity
* Get direction through interactive map
* Get business information through Email/SMS
* Call any business by just one tap
* Get unbelievably best deals
* Mark business as your 'Favorite' for ease of use
* Add your business listing FREE OF CHARGE
* Rate and review business
* TAG YOUR FRIENDS & see their ratings/reviews
* Sort friends Alphabetically or by Name or Ratings
Download it here from Windows Phone Store for free.
Thanks to Lance for the heads up.