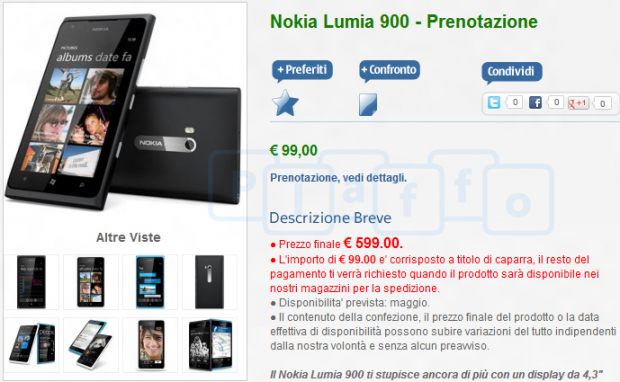 While its pretty great that the Nokia Lumia 900 is coming to AT&T soon, for the 90% of the world that is not USA it leaves us salivating for a handset which is rumoured to be coming in quite a bit down the line.
That wait may not be that long however, with official pre-orders opening for the Nokia Lumia 900 European version, with Dual channel HSDPA in place of the unsupported LTE.
The handset is being offered for 99 € with a contract of 599 € unlocked. An official release day has not been released yet however but is still expected in May 2012. It can be seen at www.nstore.it here.
Also now available in pre-order is the less exciting low end Nokia Lumia 610 which will be a rather cheap 49  € on contract or 199  € without.
Read more at Plaffo.com here.