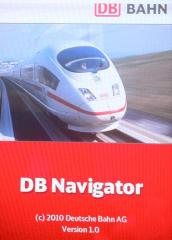 Deutsche Bahn AG, the German national railway company, has (as expected) released a Windows Phone 7 version of its DB Navigator app. The app – which has been praised on other smartphone platforms – is a sophisticated transport planner, giving detailed information on available services, and can be refined to very specific modes of transport, such as trams. And if German public transport is anything like I remember it, the timetables here can be relied on to the second. That major companies such as DB AG are releasing WP7 apps should be taken as a vote of confidence in the platform as a whole.
Best of all, the app is free, unlike its British counterpart Avanade, which costs an absurd £4.99 for information which can be obtained for free via a web browser.
You can read more about it (in German) at teltarif.de here.
Thanks to Edward J.R. for the tip.