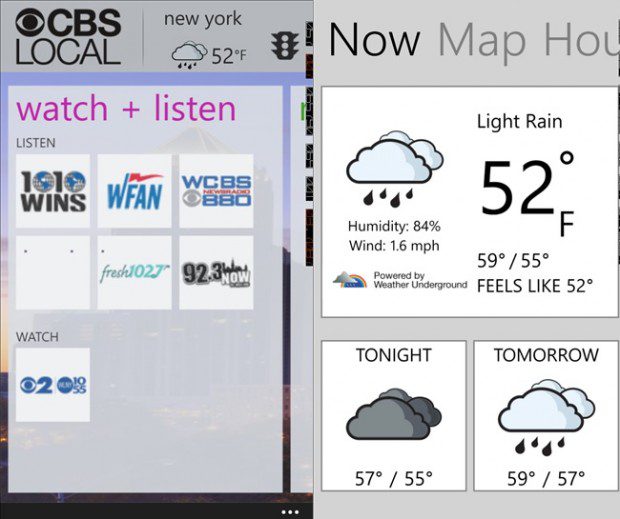 The official CBS Local app is now available for download from Widnows Phone Store. CBS Local offers latest news, sports, weather, and traffic information of the selected city and allows users to personalize their front page for the ultimate coverage of stories that matter to them.
Features:
•Choose from 24 Major U.S. Locations
•Live-Stream Audio and Video Broadcasts
•Wake Up to Your Favorite Radio Stations
•Receive Special Offers and Deals in Your Area
This will be the official mobile app for the following network of CBS Local brands,
CBS Atlanta, CBS Baltimore, CBS Boston, CBS Charlotte, CBS Chicago, CBS Cleveland, CBS Connecticut, CBS Denver, CBS Detroit, CBS DFW, CBS Houston, CBS Las Vegas, CBS Los Angeles, CBS Miami, CBS Minnesota, CBS New York, CBS Philly, CBS Pittsburgh, CBS Sacramento, CBS San Francisco, CBS Seattle, CBS St. Louis, CBS Tampa, CBS Washington, CBS 2, WCBS, 1010 WINS, WFAN Sports Radio, WBZ, 98.5 The Sports Hub, CBS 3, KYW, WIP, 670 The Score, WBBM, KNX, KCAL, WCCO, 97.1 The Ticket, KDKA, CBS 11, 105.3 The Fan, CBS 4, KPIX, WNEW and more
Download it here from Windows Phone Store.