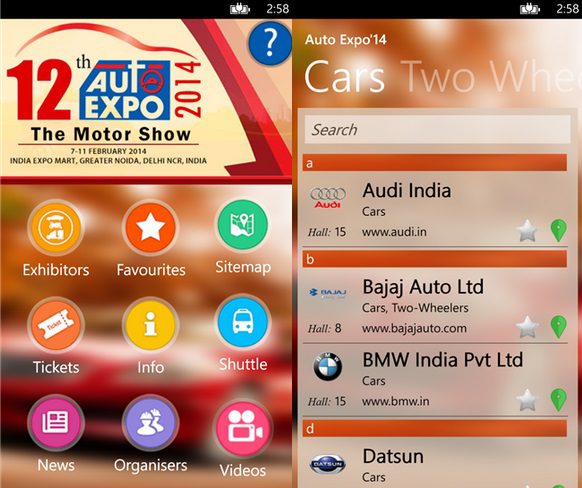 Auto Expo is India's largest Automobile Exhibition held biennially in Delhi-NCR, India. Just like CES for electronics, Auto Expo is attended by number of automobile enthusiasts from India as well as other countries to check out upcoming automobiles from various companies. This year's Auto Expo – The Motor Show 2014 will be held between February 7th -11th February. The organizers has released the official app for the event which can be downloaded from Windows Phone Store.
The Purpose of this Application is to make your experience while visiting the Auto Expo a lot more informative, convenient, delightful and engaging.
Using this Mobile App you can browse the list of Exhibitors, add them to your Favorite's List, use the interactive Site Map to find the location of a particular exhibitor or facility or to find path between Exhibitors or Halls.
You can keep yourself updated with latest News and Notifications received in the App or visit Videos in the App or you can find all the relevant information about Organisers, Parking, Ticket, Facilities, Shuttle Service in different sections of the Application.
You can also book entry tickets for the Motor show using the application. For more information please watch the small informative video in the 'Help' section' of the App.
Find it here from Windows Phone Store.