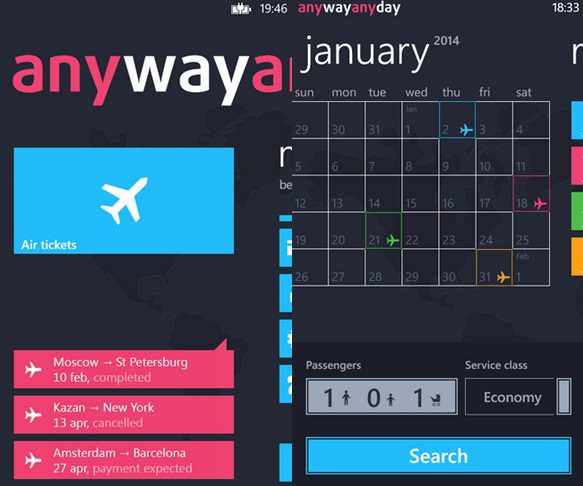 The official anywayanyday.com application is now available in Windows Phone Store for download. It is a famous travel site in Russia offering you to book flight tickets within the app.
App Description:
The Windows Phone AWAD app is a new free anywayanyday.com application to buy air tickets all over the world.

Choosing an air ticket with the Windows Phone AWAD app is quick and easy. Quick filters make the search especially convenient. You are free to choose between direct flights and transfer flights, sort by airports, departure time, arrival time, as well as by ticket price and flight duration. For your every request the system analyses more than 200 options per second from more than 800 airlines. Searching, choosing and buying a ticket through Windows Phone AWAD app takes about 3 minutes.

With Windows Phone AWAD app you can pay for air tickets with cash or a bank card. Having paid, you are to receive the text purchase notification and the e-mail with itinerary receipt. Besides, you can book the tickets and pay for them later.

With Windows Phone AWAD app all air tickets are in your pocket.
Download it here from Windows Phone Store for free.
via: WP7Forum.ru