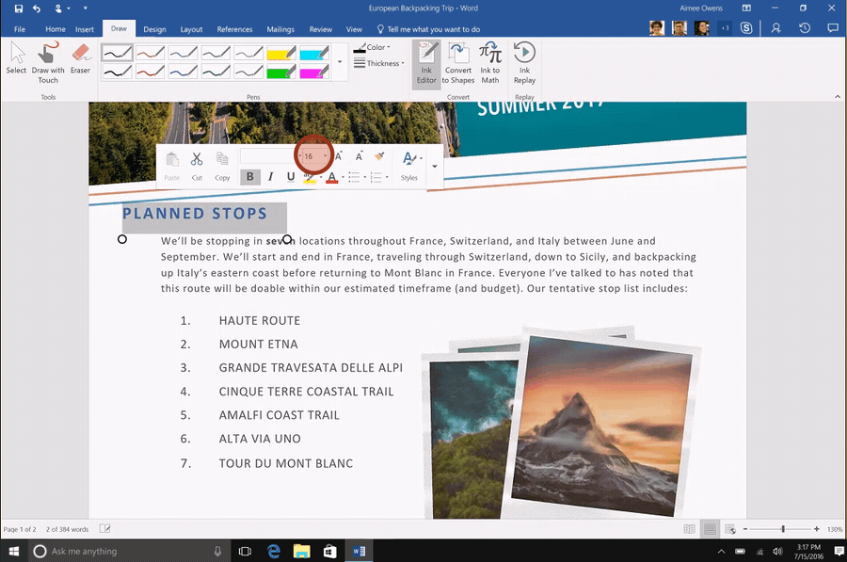 Ahead of the upcoming Office event next month, Microsoft detailed some major new features coming to Office's inking capabilities on Windows 10. The company is introducing a new Ink Editor which they first previewed back at Build 2016. The Ink Editor is mostly useful for devices with a pen such as the Surface Book as it allows users to work on apps such as Word with their pen. For instance, you will be able to delete words just by striking through them, and you can also select text just by circling them.
In addition to the Inking Editor, Microsoft is also integrating the Ink Replay with the Surface Dial, which Microsoft introduced earlier this evening. With this integration, users will be able to rewind and replay ink in a document using the Surface Dial on their Surface Studio, Surface Book or Surface Pro 4 which is quite neat. Ink Replay is available in Word, Excel, PoweRPoint, as well as OneNote for Windows 10.
Additionally, Microsoft also announced a new Digital Ruler feature for PowerPoint which is similar to the digital ruler on Windows Ink. The Digitial Ruler allows users to draw straight lines and align objects very easily using a stylus like the Surface Pen on PowerPoint. This feature isn't available just yet, but Microsoft says it will be coming in early 2017.
Microsoft is also working on a feature called Segment Eraser for PowerPoint which allows users to easily erase shapes on PowerPoint files, but that will be coming next month.