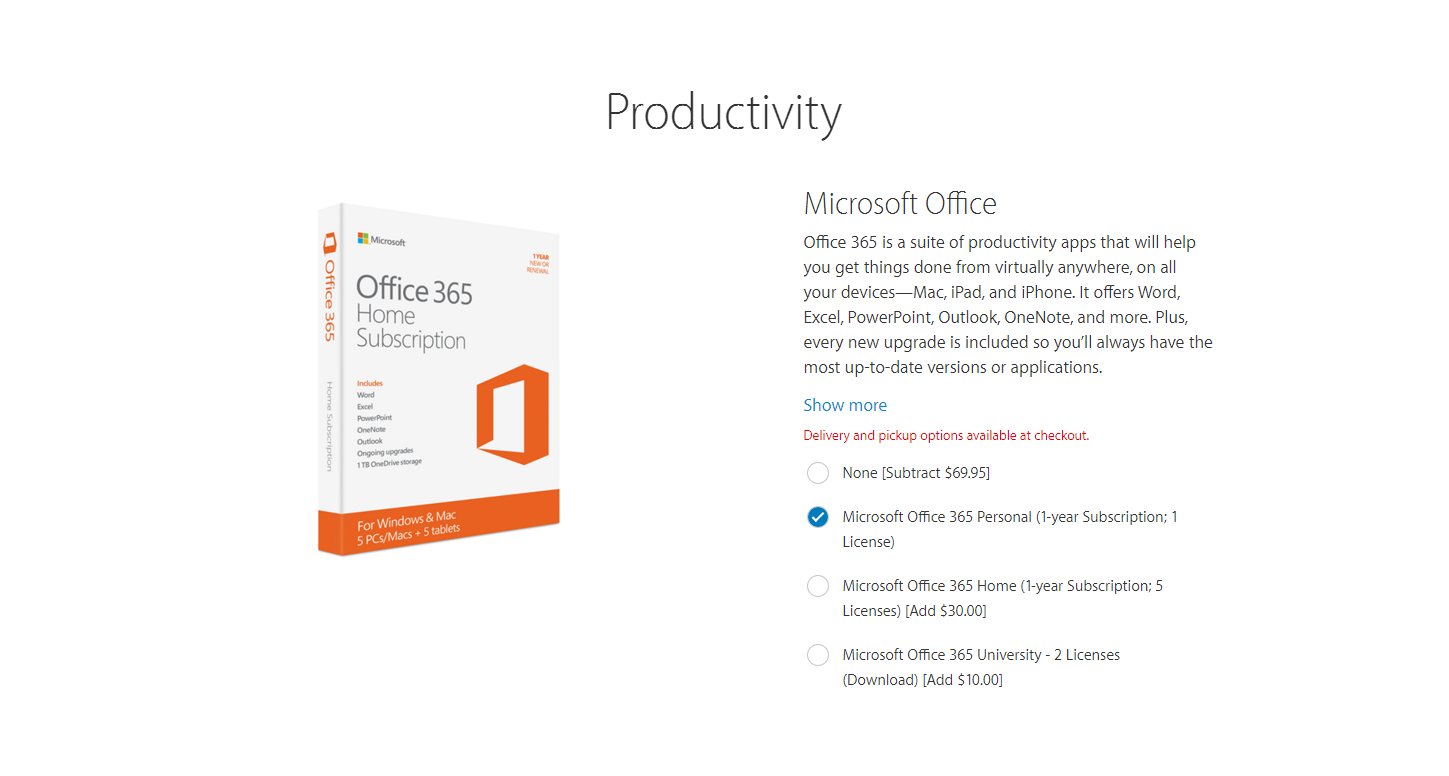 Earlier this week, Apple introduced a new, smaller iPad Pro. When the company introduced the original iPad Pro, Microsoft demoed its new Office apps built for the iPad Pro at Apple's event. Apple has also been showing off Office apps on its ads and website as a result. Now, it seems like Apple has started selling Microsoft's Office 365 as an accessory for the new iPad Pro. The company is allowing buyers to purchase 1 year subscription for Office 365 Personal, Home or University when ordering the new iPad Pro.
Office 365 is a suite of productivity apps that will help you get things done from virtually anywhere, on all your devices—Mac, iPad, and iPhone. It offers Word, Excel, PowerPoint, Outlook, OneNote, and more. Plus, every new upgrade is included so you'll always have the most up-to-date versions or applications.
It is worth noting that users can also buy Office 365 when ordering the iPad Air 2, iPad Mini 2, and the iPad Mini 4. Keep in mind that users can still get the core Office experience on the new iPad Pro for free as it has a 9.7-inch screen (you'll require an Office 365 subscription if you want to use Office on a screen larger than 10.1-inch). However, if you want the premium features, you will need to get an Office 365 subscription. Microsoft recently told us:
Consistent with our business model, after signing in with a free Microsoft account, the core viewing, creating, editing and printing experience is free in Office apps for iOS, Android and Windows 10 Mobile, on devices 10.1" or smaller. An Office 365 subscription enables scenarios where consumers want to do things that go beyond the basic freemium experience such as using track changes in Word, Pivot Tables in Excel or Presenter View in PowerPoint.