Ars Technica has had a hands-on with handsets from the 4 OEMs which will be coming to market with Windows Phone 7 handsets, and have discussed what sets each handset apart from the other.
The answer is of course "Not much" but with Windows phone 7 the OEMs do have the opportunity to bundle additional software and additional camera features, something the OEMs have all taken advantage of in different ways.
HTC's handsets will come bundled with a collection of mini-applications, including the weather, notes app, stock ticker and audio and photo enhancement software, which can be accessed via the HTC Hub or via individual tiles.
HTC has also offered some different modes in the camera, including a Solarize mode for example. Their phones will also offer Dolby Mobile and SRS Surround audio processing.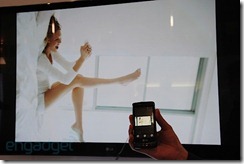 LG has avoided adding mini-applications, concentrating on adding actual features.  Their handsets will all feature DLNA streaming of music, video and photos to compliant devices.  They will also allow text entry via voice, and their panoramic photo software relies on the built-in compass to make photo stitching easy.
Another app which uses the digital compass is their ScanSearch augmented reality app, which overlays digital signage on a video stream from the camera.
The reviewer notes they found LG's approach much more compelling that HTC's.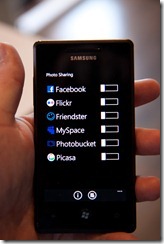 Samsung added two features to their Windows phone 7 handsets.  The first is the "Now Hub", which pulls in weather, news and stock updates.
A bit more useful is their extension of the Windows phone 7 photo uploading feature from just Facebook and Windows Live to encompass Flickr, MySpace, and Picasa.
Dell did not seem to offer any software differentiation at all, but of course has the most unique form factor.
Read much more at Ars Technica here.
Which mix and match of Windows phone 7 enhancements would our readers prefer, and have any of the software bundles tipped you to any particular handset? Let us know in the comments.