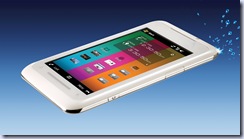 In a press release today O2 Germany announced they will be the exclusive carrier for the upcoming 1Ghz Toshiba TG01.
The TG01 features a 4.1-inch touch screen display, a Toshiba-developed three-dimensional user interface, HSDPA, HSUPA and EDGE, GPS and A-GPS and at only  9.9 millimetres, classes itself as the thinnest smartphone in the world.
"The Toshiba TG01 was one of the highlights of the Mobile World Congress and is currently one of the most interesting new smartphones," says Lutz Schüler, Managing Director Marketing & Sales for Telefónica O2 Germany. "We will offer it our customers from the summer so that the mobile phone, the multimedia capabilities and office features functions perfectly with the performance and efficiency coupled. The simple operation and design make the TG01 a highlight in our offer."
The TG01 provides, amongst other features, gesture control. Incoming calls can be by shaking the phone are accepted. Between open applications, the user navigates through the TG01 tilt left or right. The complete control is achieved with only one hand.
"The TG01 is the next step in mobile technology. With this mobile phone customers, we can offer O2 mobile content in an unprecedented speed and quality. We look forward to this exciting new device, together with our partner O2 on the German market , "says Bernard Labaume, Vice President of Business Development & Trade Marketing, Toshiba Mobile Communications Division, Europe.
The TG01 will be available from the summer in white only.