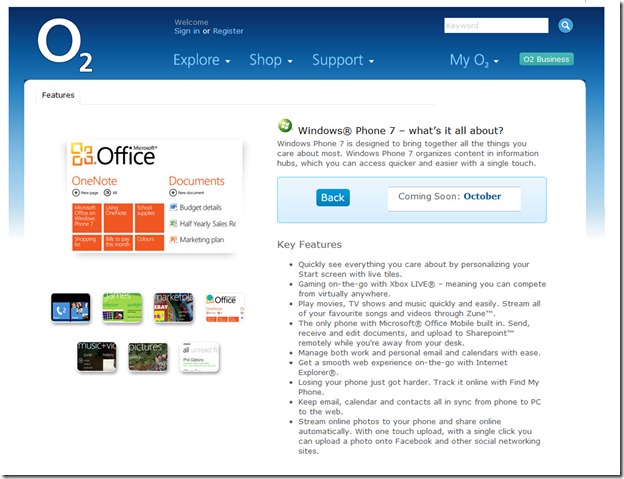 It seems O2 has jumped the gun a bit, and made their dedicated teaser page for Windows Phone 7 live a little bit too early.
Coolsmartphone notices this, and it seems not long after O2 realized their mistake and pulled the page.
Of course on the internet nothing once made public ever disappears, and the page can still be viewed at Google's cache here.
O2 notes the key features of Windows phone 7 are:
Quickly see everything you care about by personalizing your Start screen with live tiles.
Gaming on-the-go with Xbox LIVE® – meaning you can compete from virtually anywhere.
Play movies, TV shows and music quickly and easily. Stream all of your favourite songs and videos through Zuneâ"¢.
The only phone with Microsoft® Office Mobile built in. Send, receive and edit documents, and upload to Sharepointâ"¢ remotely while you're away from your desk.
Manage both work and personal email and calendars with ease.
Get a smooth web experience on-the-go with Internet Explorer®.
Losing your phone just got harder. Track it online with Find My Phone.
Keep email, calendar and contacts all in sync from phone to PC to the web.
Stream online photos to your phone and share online automatically. With one touch upload, with a single click you can upload a photo onto Facebook and other social networking sites.
Keep an eye on the original page, which will likely show up at the same URL next week.