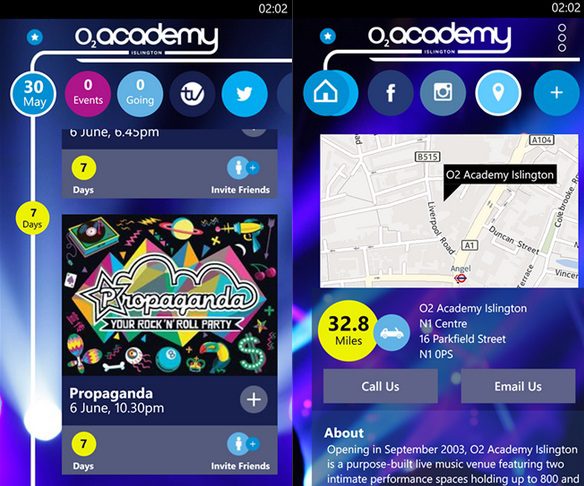 O2 Academy is one of the London's leading music venues, nightclubs and theatres. With this official app, you can find gigs, get tickets, get behind the scenes information, watch clips of your favorite artists, even see what gigs your friends are going to and lots more.
Easier navigation and gig search
The all new Gig Hub. A digital gig pack so you can see specific details of the events and artists you're interested in
You can let your friends know which gigs you're going to on Twitter and Facebook
See how many of your friends are going to an event (they'll need the O2 Academy app to do this)
Scroll through our timeline showing the number of days before each gig as well as a countdown to showtime
See directions to the venue, how to get there, distance and even what the weather will be
Check the latest from an Artist's or Venue's Twitter, Facebook and Instagram pages
Fan Cam. So you can share your night by uploading a video from your phone. You could even be on O2 Academy TV
Light Show. Wave your phone in the air and watch the screen pulse with colour in time with the music
Download the app here from Windows Phone Store for free.