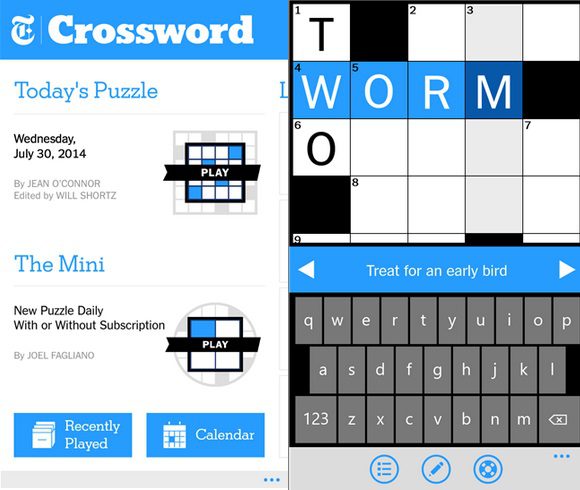 The popular New York Times Crossword app is now available for download from Windows Phone Store.

This free app allows you to get unlimited access to the daily puzzle and calendar archive for 7 days. You can also subscribe for full access to The Crossword on Windows 8 and at NYTimes.com.
PLAY ANYWHERE
Your subscription now gives you access to The Crossword on NYTimes.com at no additional charge! Just connect or create an account in your account settings and Play Anywhere. Your Windows puzzle progress will be saved and available on the web and vice versa!

MINI PUZZLE
Short, sweet and available without a subscription every day! Get a quick crossword fix when you don't have time for the whole thing.
DAILY PUZZLE
It's the same puzzle that's printed every day in The New York Times newspaper. All daily puzzles are available the previous day at 10p EST with a subscription, so enjoy Tuesday's puzzle on Monday at 10p! Practice and learn how to solve the puzzle on Monday or Tuesday or challenge yourself with even harder puzzles later in the week.
PAST PUZZLES
Subscribers enjoy one year of puzzles in this app or more than 20 years of puzzles on the web.
MODERN PUZZLE FEATURES
Solve puzzles that include new tricks like rebuses, highlighted or underlined squares, and more!
Download it here from Windows Phone Store for free.