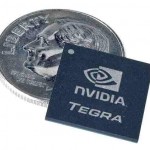 Continuing the trend of chip-makers showing thier support for the Windows Mobile platform, Nvidia today introduced the Tegra processor, designed, according to NVIDIA, to bring "visual computing to mobile internet devices".  The processor, which is designed for low power and high performance, runs at 800 Mhz and features an ultra-low power GeForce GPU.
"As more consumers begin to access the mobile Internet with devices like smartphones and MIDs, device manufacturers will be challenged to create the same high-quality user experience on mobile devices that consumers currently enjoy on their desktop PCs," said Warren East, CEO, ARM. "Using advanced ARM technology and providing a ground-breaking mix of performance, power consumption and form factor, the NVIDIA Tegra mobile computer-on-a-chip addresses this challenge more effectively than any other solution yet on the market, thereby taking a major step toward the oncoming mobile Internet revolution."
NVIDIA Tegra 650 also features:
• All-day media processing, for 130 hours audio, 30 hours HD video playback
• HD image processing for advanced digital still camera and HD camcorder functions
• Optimized hardware support for Web 2.0 applications for a true desktop-class internet
experience
• Display support for 1080p HDMI, WSXGA+ LCD and CRT, and NTSC/PAL TV-Out
• Direct support for WiFi, disk drives, keyboard, mouse, and other peripherals
• A complete Board Support Package (BSP) to enable fast times to market for Windows
Mobile-based designs
"With NVIDIA's Tegra processor line, we will continue to see impressive mobile innovations in Windows Mobile products," said Todd Warren, corporate vice president of Microsoft's mobile communication business. "Microsoft is dedicated to providing people best-in-class mobile experiences, so that people can carry a single device for work and play."
Click more for a picture of the NVIDIA APEX 2500 demonstration device, and a video of it in action.