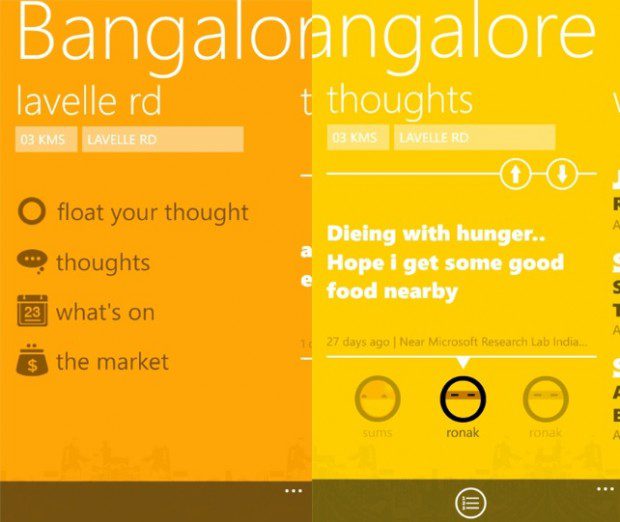 NowFloats is a new mobile service that provides you a way to discover and be a part of the buzz of a location. You can float your thoughts on a location, read others floats of a location, see what's happening around you, etc,. You can do all this with this Windows Phone app and even a Windows 8 app is also available in Windows Store.
App Description:
Chaat? Movie? Cricket match at a sports bar? Don't you just hate those days when you want to do something fun but just don't know what to do, and what's around you? Or what about when you want to go out shopping, but don't know where offers and sales are running? How about when you want to share a great experience, or even a lousy one, with others in your city?

Well, NowFloats can fill that void in your life!

Share your 'floats', pictures, reviews and recommendations with others. These are tagged to the place that you floated them in. So, anyone around the area, or coming into the area at any point can see these. Also, you know what others are 'floating' or sharing around you!

Explore your neighborhood and find most anything – from restaurants, general shops, malls and cinemas to bowling alleys, boutiques, hospitals, hardware stores and electronics shops. And much more…

Look up sales and offers around you!

There's always an event that you're unaware of…Nah, that's not true with NowFloats! You can check out events and their details.

All this information is available to you within an adjustable radius, and when information gets old it auto-expires! So, with NowFloats, you're at the crossroads of here and now.

COMING SOON?SAVED FLOATS: Like a particular thought? Or offer? You'll be able to save it to your profile.
Download it for free here from the Windows Phone Store.