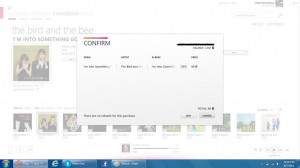 We reported a few days ago that traces of the Zune Marketplace for music was showing up in Canada, and now Zunited has updated their report, stating that they are now in fact able to purchase music.
The service is still pretty bareboned, as Zunited notes:
This is great news but a few things are still missing though: the ability to properly go from an artist in your collection to their respective page in the Marketplace still results in an error message about the artist being "no longer available at Zune Marketplace." Also, the pretty view of featured artists, top 10, and also general browsing experience seems to be somewhere between lacking and non-existent. Another aesthetic feature that is missing is the artist pictures and bio, which make the music user experience on the Windows Phone and Zune HD exponentially more enjoyable.
Zunited notes that just being able to purchase music in Canada is an achievement – the market has numerous rules and regulations designed specifically to keep music stores out of the country.
We have recently recieved similar reports from Australia, indicating that a possible expansion of the Zune music service is underway, hopefully with a big splash to coincide with Mango handsets.
Read more at Zunited here.