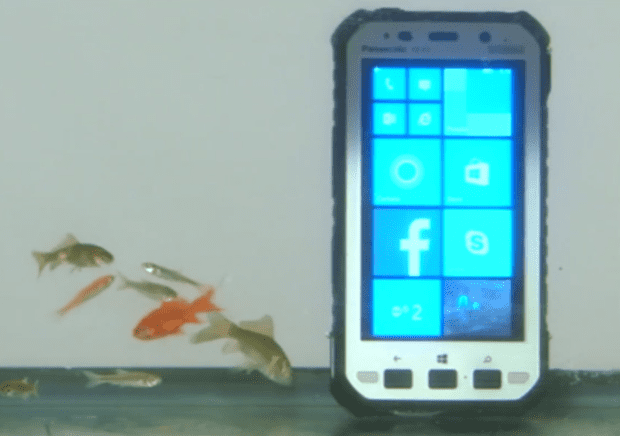 We've seen rugged phones by other OEMs, but if you want a really rugged device Panasonic's Toughbook range is often the first stop.
The Panasonic ToughPad FZ-E1 is what you call a really rugged device.  The 1.2-inch-thick,15-ounce handset runs Windows Embedded 8.1 Handheld on a 2.3 Ghz Snapdragon 800 processor and is waterproof, being able to with stand 5 feet immersion for 30 minutes, and can withstand 10 foot drops onto concrete due to its unique "floating" screen that will work with gloves, even underwater, switching from a 10 point to 1 point touch system.
The 5 inch 720P device is $1,849 for a WIFI only version and $1899 for a version with 4G LTE and can accept a barcode or magstripe reader for $100 each, and also buys you an 8 megapixel rear and 1.3 megapixel front camera.
The handset has a 6200 mAH battery which can last up to 14 hours of continuous network use, and which can be hot swapped for a fresh battery, allowing up to 2 minutes for installation without causing any interruption in operation, due to a supercapacitor in the device.
See more videos of the amazing device in action after the break.
Read more at Panasonic here.