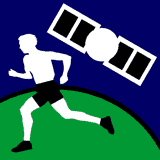 If like me, you are preparing your abs and arms for the beach y
our trusty Winmo device is here to help!
Calorie GPS is the first caloric consumption calculator for Windows Mobile devices that provides fairly accurate statistics based on the GPS readings and a few user-defined factors. The GPS readings include distance travelled, current velocity, acceleration changes, and can also include altitude changes. The factors include body weight, terrain characteristics, and activity type:
GPS technology
RNS: Calorie GPS uses the GPS technology to calculate the amount of calories that your body burns. It will work together with a GPS receiver connected to your mobile device or integrated with it. With its help it will track your location, calculate your speed, and distance travelled. Using this information it will constantly estimate the current caloric consumption of your body, as well as calculate the total amount of calories burnt.
Give it a try, the cab is here: