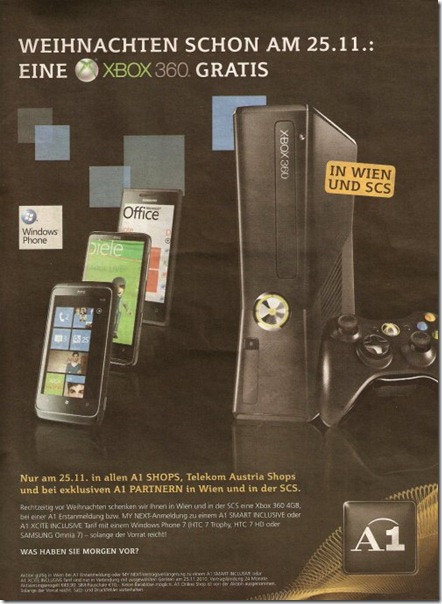 The NPD numbers for game consoles in USA were released yesterday, and Microsoft was once again the biggest selling console in USA, with 1.37 million consoles sold. Microsoft also announced they sold 2.5 million Kinect accessories.
The Xbox 360 also saw 42% year on year growth, compared to a 25% drop in sales for the PS3, and 50% of all of spending at retail this November was on the Xbox 360. The Xbox 360 even beat last years phenomenon, the Wii by 100,000 units.
What is the relevance of all this to Windows Phone 7?  Microsoft's success in the console space demonstrates very clearly that:
1) One can not pick a winner early in the race.  The PS3 was meant to dominate, but did not.  The Wii did dominate, but is now faltering.  A company can come back from behind and take the lead again.
2) Microsoft is not in fact a dying consumer brand, and successfully launched a consumer product, the Kinect, and convinces millions of people to part with hundreds of dollars.
3) Xbox is clearly a very successful consumer brand.
Of course all of these are very relevant to Windows Phone 7, coming as it is from behind the market, in great need of convincing consumers it is worth spending money on. Xbox Live is a central component of the OS, and Microsoft is starting to promote it heavily in their advertising of Windows Phone 7.
There is a growing meme in the blogosphere that Microsoft is irrelevant to consumers – numbers like these should make those who count it out think again.